Free Course About Clozapine
Consider yourself cordially invited to a live, online (and totally free) course where we will explain why and how to use clozapine.
Even though it's far and away the most effective treatment for schizophrenia, a lot of mental health care providers have questions about it. We will try to answer them in this course.
There is no greater satisfaction in medicine than being able to help someone recover from a
serious illness. And if your work in medicine involves caring for people affected by schizophrenia, you owe it to yourself to know about clozapine.
Who is this course for?
This course is for:
prescribing clinicians who aren't (yet) comfortable prescribing clozapine
clinicians who do prescribe clozapine but want to learn more about it
mental health professionals who would like to better understand this medication
family members of people affected by schizophrenia who would like to learn more about an often-overlooked and frequently-misunderstood treatment option
Here are some reasons why anyone who works with people affected by schizophrenia should know about clozapine.
1. It's the most effective medication for schizophrenia
When it comes to medication effectiveness, clozapine is in a class by itself. The effect size statistic shows this very clearly.
In baseball, the batting average statistic allows us to compare the effectiveness of different players, even if they're on different teams, or even of those teams haven't played against each other.
The effect size statistic, like the batting average, allows us to measure the effectiveness of a particular treatment and compare it to others.
Here is the comparison between clozapine and other antipsychotic medications. Notice that the effect size ranges between 0.4 to 0.6 for most of the medications.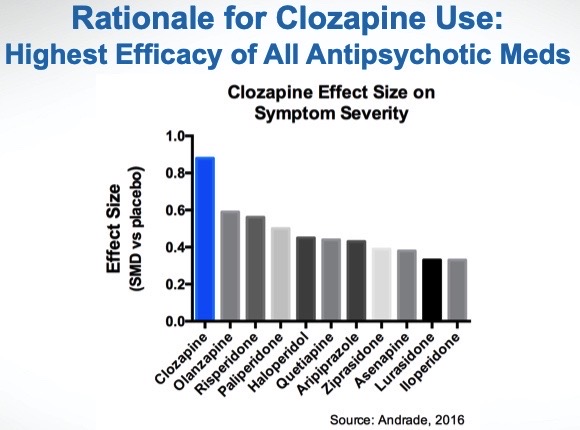 The effect size of clozapine is 0.9. In effect size terms, that's a really big deal. When it comes to effectiveness, clozapine is in a class by itself.
2. It reduces suicide
Did you know that only 1 medication has FDA approval for reducing suicide risk? That medicine is clozapine.
Suicide is a major concern in schizophrenia. About 50% of people with schizophrenia will attempt suicide at some point, and about 10% will die from suicide.
Clozapine can drastically reduce that risk.
Check out the results of this study by Reid et al. Clozapine treatment brought the suicide risk from schizophrenia down to a level that would be seen in someone without the illness.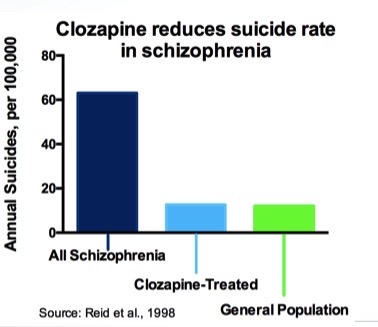 Clozapine saves lives.
3. Patients who use clozapine tend to prefer it over other options
Nearly 90% of people who use clozapine as part of their treatment prefer to continue with clozapine. They find that it allows them to live independently and enjoy relationships.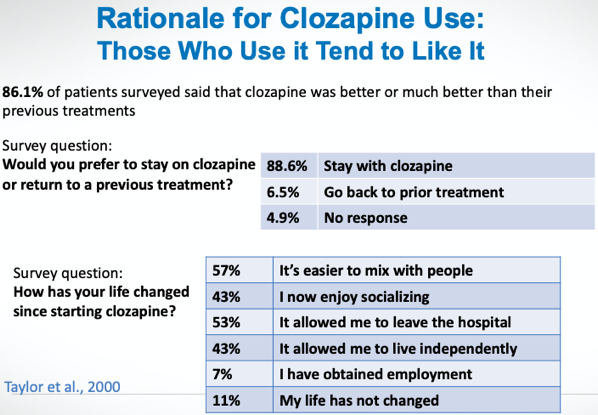 4. Nothing else works nearly as well for patients who have not responded to more commonly-used treatments
About 30% of people with schizophrenia will not see much benefit from the more commonly-used antipsychotic medications. This type of schizophrenia is called "treatment-resistant schizophrenia" or "treatment-refractory schizophrenia."
Clozapine is effective in about half of these cases. Other medications have single-digit success rates.
Check out the highlighted portion of the abstract below: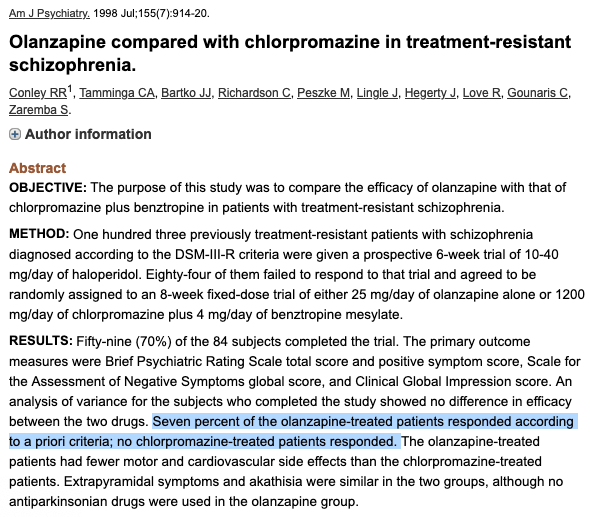 But what about side effects?
Like every treatment, clozapine comes with risks for side effects. And like every treatment, it won't work for everyone.
But many of those side effects are avoidable, or can be minimized.
We will explain how in this course.
Why we're doing this
We're offering this free training because we believe that every person with schizophrenia should be given the opportunity to recover. And the more people that know about clozapine and how to use it, the more people with schizophrenia will achieve the recovery they deserve.
A lot of continuing medical education is paid for by pharmaceutical companies who hope to drive sales of their products. We are having none of that. Unlike many other free medical education opportunities, this one is completely free from corporate agendas. (And actually, with clozapine, there is no longer a corporate sponsor — it's a relatively cheap, generic medication. That's probably one of the reasons it's not used as often as it should be)
Why not come and check it out. Here's the registration link.
REPORT SIGNUP
Receive email notices of new posts to The Unsponsored Psychiatry Report. It's free, and you can unsubscribe at any time. You will be required to verify your email address.